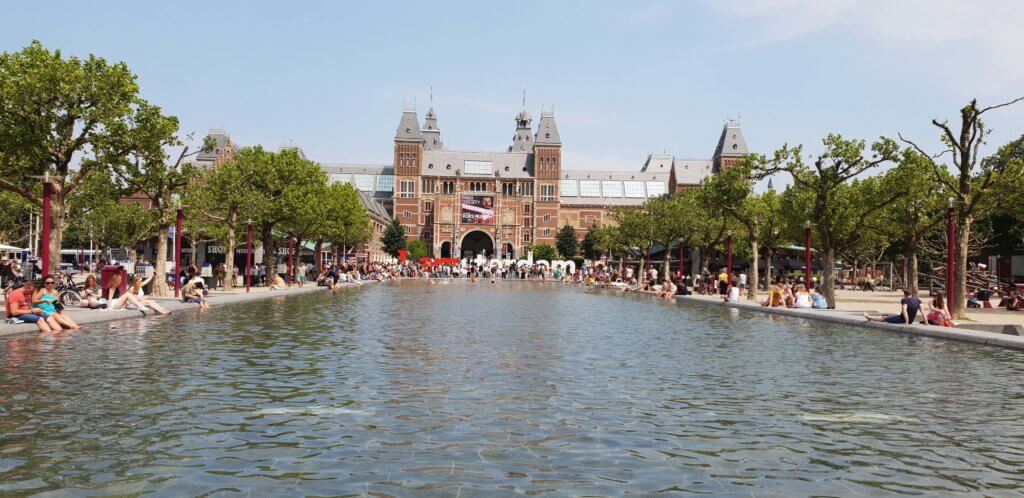 Amsterdam is home to more than sixty museums, but the heart of the art scene is at Museumplein, where you can find four very different top tier museums: the Rijksmuseum, the Van Gogh Museum, the Stedelijk Museum and Moco Museum. Aside from that, this square has a wonderful field of grass where locals like to hangout in summer, and in winter you can ice skate on the small ice rank that is put up every year. It's a location in the city centre, which means that shops and cafes are just around the corner. Amsterdam Museumplein is an attraction you can't miss while visiting Amsterdam; here's what you need to know about the museums surrounding it.
Rijksmuseum
The Museumplein is dominated by the stately Rijksmuseum building, which was built in the nineteenth century. This is the national museum of the Netherlands, telling the story of the country from the middle ages until now. In this museum you will find Rembrandt's famous Night Watch, along with other works by Dutch painters known all over the world. Discover for yourself why the world all over loves these Dutch artists so much. Don't forget to visit the library; a beautiful two story structure that is still in use today. Make sure to stay quiet though, as you will find many students studying over there.
Stedelijk Museum and Moco Museum
Lovers of modern and contemporary art should take a trip to the Stedelijk Museum and the Moco Museum. The first is situated in a large building that is also known as 'the bathtub', because of it's strange shape. Since the middle of the twentieth century, the Stedelijk Museum has been known for its experimental exhibitions and its large collection of modern art and design. An added bonus is the museum shop, where you can buy anything from posters to mugs printed with the art works from the museum. A little further along Museumplein is Moco Museum, which houses contemporary artists such as Banksy, Warhol, Yayoi Kusuma, Keith Haring and Damien Hirst.
Van Gogh Museum
Vincent van Gogh is one of the most famous painters to be born in the Netherlands, which is why he gets a museum all to himself. In the Van Gogh Museum you will see his self-portraits, his landscape paintings, his still-lifes and his drawings. Aside from that, the museum regularly hosts exhibitions about Vincent's contemporaries. Currently an exhibition about Gustav Klimt is to be seen at the Van Gogh Museum. Whichever museum you decide to visit in Amsterdam, make sure you buy your tickets online beforehand. This will ensure less waiting time, and more time to enjoy the beautiful works of art.